Irrevocable Trust Asset Protection
For premium asset protection consider the UltraTrust® irrevocable trust
Irrevocable Trust asset protection planning for any client with wealth is critical. It is also important to know who to trust in the industry. The following article discusses asset protection and how to find a qualified advisor. With an unstable economy, protecting assets has never been more important than it is now.
Asset Protection: Irrevocable Trust Asset Protection Planning IS Critical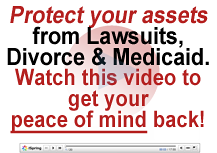 With the deteriorating economy, many people that have wealth are looking for superior asset protection planning that will provide protection for their assets from a general public that is desperately looking for any reason to sue the wealthy and squeeze them for anything they can. The problem for many individuals with wealth is that they do not know who can be trusted and what types of asset protection strategies are the best.
There are many asset protection plans in the marketplace and a lot of seemingly intelligent people will fall for ridiculous strategies, such as UBS and LGT's offshore tax avoidance schemes. The UBS scheme is particularly troubling because it involved a firm with credibility, and thus making the scheme appear believable. Many advisors and clients were taken in by it and made recommendations to others. In the end, the scheme probably cost many advisors the business of wealthy clients who are now dealing with audits from the IRS.
Correct asset protection planning uses laws developed by congress to segregate assets and deter lawsuits. Individuals should not be advised to hide money in offshore accounts. True asset protection cannot guarantee to eliminate every lawsuit, but it will deter the contingent fee attorney lawsuits, and assets will be protected from creditors even if there is a lawsuit. There are legal ways for clients to "hide" assets in full transparency so creditors cannot attain them - with an
Ultra Trust® irrevocable trust
is one example of a great asset protection plan.
Filing Lawsuits Can Be Profitable: Should you Fight or Settle?
If you decide to fight or settle, in either case you lose. There have been many articles on lawsuits, whether to settle or fight the lawsuit and how easy it is to file. When people contact Estate Street Partners, they often mention that they desire to protect their assets from any lawsuits. While asset protection typically deters lawsuits, it cannot completely eliminate them from occurring. The people that you have to worry about are the attorneys that are not aware they have been beaten and the people who just seem to want to make your life difficult. Proper asset protection planning will structure a plan so that even if you are ever sued, you will lose as little as possible. The only problem is that you can still lose money when you choose to fight the battle due to the cost of defending yourself.
There are a number of plaintiffs that will file frivolous lawsuits because they are aware that the defendant would prefer to discretely settle and pay an amount instead of going to a public trial and face the risk of paying a lot more. This is a chance to take, but from the perspective of the defendant, it is better to pay a little than risk a large verdict.
Irrevocable Trust Asset Protection: by Estate Street Partners (the UltraTrust®)
With the current state of the economy, people are doing everything they can to squeeze you for an extra buck. If you have wealth, now is the time to protect those assets. The time was taken to address lawsuits and the evident need for asset protection because this is one of the easiest ways for a greedy attacker to get assets from another person. Non-negligent creditors are limited in how assets can be attacked. The point is to get you to realize that there is a need for asset protection. There are many advisors that will claim to be asset protection experts, but how do you really know who to trust? That is where Estate Street Partners, the creators of the Ultra Trust® comes in.
Estate Street Partners has an A+ Rating with the Better Business Bureau and Certifed Asset Protection Planner (CAPP) and Certified Wealth Protection Planner (CWPP) designations as well as an AA rating in the Asset Protection Society (APS). This is a new type of society that was created to deal with the specific problems clients and advisors have when it comes to
asset protection
.
The APS was created for various reasons:
To provide the public with education on asset protection.
To be a watchdog entity and warn advisors and the public about faulty asset protection planning and the scams that are in the marketplace.
To train and educate advisors how to identify and implement optimal asset protection planning structures that will suit any client situation.
To oversee and issue Ratings to advisors based in skill levels and knowledge so that the public knows they are using advisors who know what they are really doing in regards to asset protection.
To assemble the highest caliber asset protection planners across the country in an effort to make the industry better.
To provide a forum for the open discussion and exchange of ideas in the field of asset protection.
APS™ members are trained in effective asset protection techniques and are involved with trusted and credible advisors across the country.
Call Estate Street Partners® to learn more about the UltraTrust® irrevocable trust today for a free, initial consultation on how you can protect your assets, avoid
Medicaid spend down
problems, avoid the estate taxes and gift taxes to transfer your assets to your beneficiaries and other advanced tax strategies to save your wealth for the next generation.

About the Ultra Trust®:
Read more articles on irrevocable trust asset protection:
To learn more about irrevocable trusts and senior elder care visit:

We never share your email information with third parties. We collect your email address so you can benefit from money-saving tips. For more information please review our privacy policy.
Powered by EmailMarketingServicesCo (a division of Estate Street Partners®)